Medicine
Science
Genomics
Genetics
Healthcare
Precision Medicine
HLTH
xMed
How we talk about science matters as much as science itself.
It's a statement we've made many times in the past and one we'll likely make many times in the future, because it's a core principle at Veritas. We strongly believe that advancing science and medicine requires advancing the quality of the conversations around those disciplines.
It's why our leadership welcomes invitations and actively pursues opportunities to convene with innovators, scientists, designers, and other professionals across all segments of the health industry. Speaking to audiences who are invested in catalyzing the quality of healthcare makes us better, as does rubbing elbows with other industry movers and shakers. Those interactions provide the kind of inspiration that helps us to propel change. What's more, it helps us to distill our messaging — from industry presentations to resources we develop for consumers. By sharing what we're working on and hearing what others are doing, including key challenges and concerns, everyone can learn and benefit.
This fall, three members of the Veritas leadership team answered the call to speak at events that focus on improving and transforming healthcare.
It's rare to have an opportunity for payers, providers, entrepreneurs, investors, academics, associations, and others to collaborate.
Our Co-founder & CEO Mirza Cifric and our Chief Marketing & Design Officer Rodrigo Martinez both spoke at HLTH 2019 in Las Vegas. Touted as the largest conference for health innovation, Rodrigo said, "HLTH brings together a broad range of stakeholders across all segments of healthcare to explore ideas for a new health system with lower costs and higher quality of care. It's rare to have an opportunity for payers, providers, entrepreneurs, investors, academics, associations, and others to collaborate like this."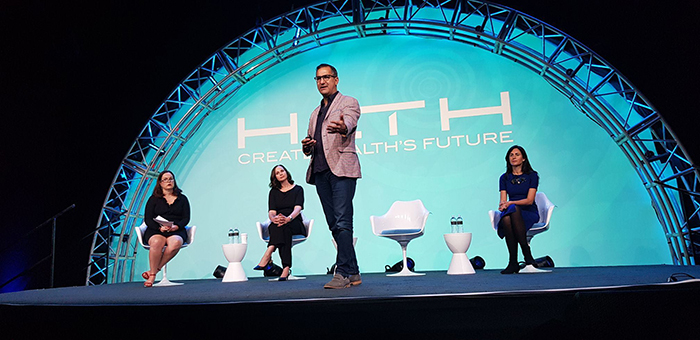 Mirza's Intel-sponsored panel looked at the magnitude of developments in precision medicine and how crucial it is to keep pushing the pace. Susan Tousi, Illumina senior VP of Product Development and James Lowey, Translational Genomics Research Institute (TGen) CIO rounded out the panel moderated by Bryce Olson, Intel Health & Life Sciences global strategist and SequenceMe founder. All shared real patient stories — including the role of genome sequencing in Bryce's own battle with stage 4 prostate cancer — and discussed how their work focuses on building awareness and making critical genetic data more accessible and actionable.
We aren't moving fast enough. People keep dying.
Mirza emphasized that the urgency of getting genomic data to individuals is best seen through the eyes of patients and their families. At one point, he frankly addressed the status quo, saying, "We aren't moving fast enough. People keep dying." Later, he added, "Our kids won't tolerate a system that doesn't incorporate their genetics into care."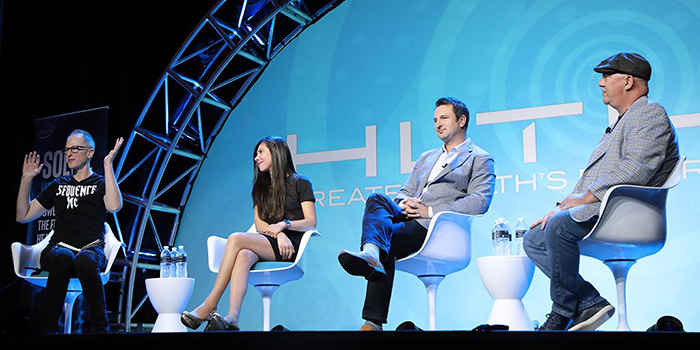 Of the conference overall, Mirza said, "People gathered at HLTH with the clear notion that things need to change in healthcare and that it needs to start from the ground up, not just through politics and policy. It left me with the most optimistic feeling that we will solve our healthcare challenges, because we are not just innovators and disruptors; we are also customers and potential beneficiaries of the improvements we strive to bring. We want this for humanity, but we also need it for ourselves and our families."
Rodrigo's panel at HLTH also centered on genomics and precision medicine, but explored more of what's coming in the future. Sarah Richards of WIRED moderated his panel, which also featured Genome Medical CEO Lisa Alderson and Celmatix Founder & CEO Piraye Yurttas Beim.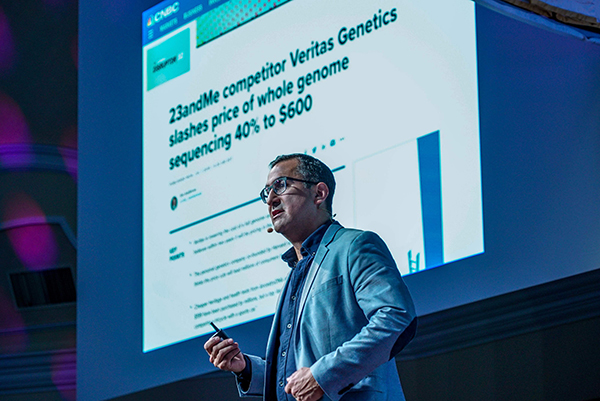 Just over a week later, Rodrigo gave an expanded presentation (see Livestream Recording from Monday, November 4th at 2:27:10) exploring where consumer genetic and genomic testing is taking us in healthcare and beyond. That talk took place at Exponential Medicine (xMed) 2019 in San Diego, a conference founded by Daniel Kraft, which focuses on convergent and rapidly developing technologies and their potential in the reinvention of health and medicine. "Exponential Medicine sets the perfect stage for intimate conversations among key opinion leaders who are defining the future of healthcare," said Rodrigo.
At both xMed and HLTH, Rodrigo emphasized the shift in consumer genetic testing technologies from genotyping to Whole Genome Sequencing (WGS) and that WGS is increasingly being integrated into clinical practice as a preventive tool. It's no coincidence that those shifts are happening at the same time that the price differential between genotyping and WGS is rapidly decreasing, and Rodrigo said that gap will inevitably continue to shrink.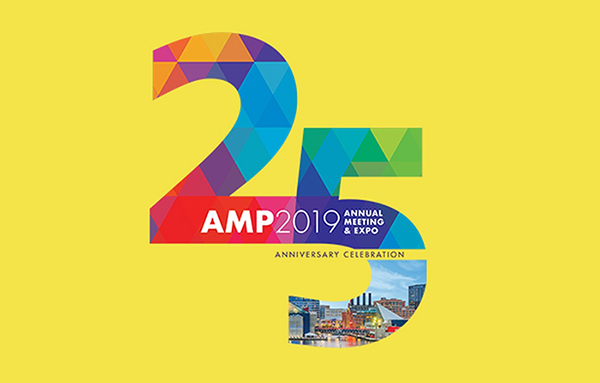 Just a few days later, our VP of Clinical Affairs Birgit Funke, PhD, FACMG, presented to a much more specialized scientific crowd at the 2019 Association for Molecular Pathology (AMP) Annual Meeting & Expo in Baltimore. The event also marked the organization's 25th anniversary, which elicited an expansion of the niche conference to incorporate guest associations like the American College of Medical Genetics and Genomics (ACMG). Birgit presented on elective genome sequencing as part of the ACMG delegation. She addressed the growing application of clinical genomic testing beyond strictly diagnostic purposes — when an individual already has symptoms — to include more predictive objectives — identifying genetic predisposition when no symptoms are present.
Birgit outlined the current state of affairs in a clinical context: More and more healthy individuals are seeking Whole Genome Sequencing services in order to learn about their disease risks. Some experts question that practice altogether, while others are leading the preventive genomics charge at prominent institutions like Mayo, Brigham & Women's, and MGH. Despite challenges and controversy, all signs point to elective WGS continuing to escalate. That being the case, Birgit emphasized the need for accurate pre-and post-test education for consumers and healthcare providers alike, as well as the need for guidance from professional societies like AMP, ACMG, and the National Society of Genetic Counselors (NSGC).
In reality, those tests simply are not capable of supporting personalized medicine — and therefore impacting the future of healthcare — in the same way Whole Genome Sequencing is.
Even as genetic testing is beginning to trend toward Whole Genome Sequencing, there are still a number of direct-to-consumer (DTC) test-makers out there saying they offer valuable health information based on your DNA and clamoring for sales with roller-coaster discounts and promotions. In reality, those tests simply are not capable of supporting personalized medicine — and therefore impacting the future of healthcare — in the same way WGS is.
It can be difficult to hear that truth amid the deafening "noise" of mixed messages, confusing claims, and masked methodology. That's why, when Veritas communicates to consumers, we strive to silence the racket with straightforward, user-friendly information, like in our myGenome report. After all, what good are health insights you can't understand or that are inherently misleading?
Want to be up to date with our adventures?
Sign up for our newsletter and join the conversation.
Science Matters: The Importance of Experts in a Post-Truth World
As "spin" gains ground, "alternative facts" replace actual facts, and feelings outweigh evidence, real science matters more than ever…