Disease Risk
Whole Genome
Genetics
DNA Tests
Health
Genetic Tests
"An investment in knowledge pays the best interest."
— Benjamin Franklin
So, you're thinking of getting a genetic test. That's great! But there are so many choices on the market, it's easy to get confused. The reality is that most tests focus on infotainment, not science. 
myGenome

 
is based on Whole Genome Sequencing (WGS) technology, and it offers a magnitude more of information than 
any other test out there
.
And, this isn't just a case of "more is more." This is better is more. That's not only because we test a much greater percentage of your DNA than other commercially available products; it's also because of the quality of our results and the way those results are interpreted.
Let's walk through the details of our three myGenome products.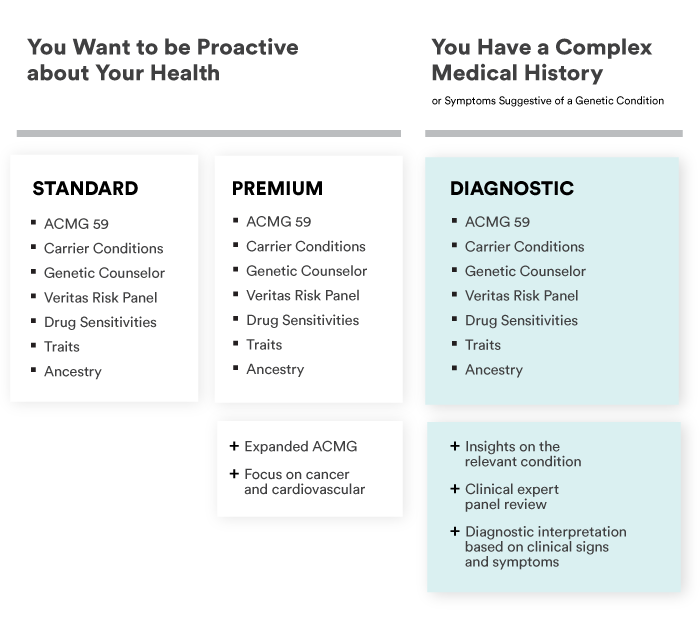 1. myGenome Standard
We built myGenome Standard on ACMG 59, a list of recommended genes established by the American College of Medical Genetics that focuses on a large number of variants that apply to a small percentage of the population. Those gene variants are associated with more than 200 conditions – including more than 20 highly actionable conditions – that can have immediate, and often dire, health consequences. Two examples are Long QT Syndrome and Familial Hypertrophic Cardiomyopathy, which can cause arrhythmia and aneurysm. If you or a loved one has a genetic predisposition to one of these conditions, you want to know as soon as possible so you can proactively make lifestyle changes that can mitigate your risk.
We chose to take myGenome Standard further by considering 24 additional genes medically established by ACOG (American College of Obstetricians and Gynecologists) as being associated with over 40 carrier conditions – ones you can pass on to your biological children.
But we still weren't satisfied. We wanted to do even more to increase value for our customers. The new Risk Section in your myGenome report was developed around actionability.
Focused on conditions that affect a much larger percentage of the population than those associated with the ACMG 59 – such as kidney, liver, or Alzheimer disease – our Risk Section addresses genetic findings that contribute to 15 common diseases whose risk can be minimized proactively by lifestyle changes.
2. myGenome Premium
While the ACMG 59 is the agreed-upon minimum list of genes that should be considered in genetic testing, we shouldn't be confined to just those. There are many other genes that can have significant health implications – primarily for oncology and cardiovascular disease, as well as for carrier conditions.
To develop myGenome Premium, we started with all of the conditions included in myGenome Standard, and then traced those back to ALL of the associated genes. That resulted in a list of more than 400 genes related to over 20 highly actionable conditions, plus 125 genes associated with more than 200 carrier conditions. This new level of testing and interpretation gives consumers an option to delve deeper into their risks for cancer, heart disease, and conditions that could affect their children.
3. myGenome Diagnostic
But what about individuals with a complex personal or family medical history or symptoms suggestive of a genetic condition? That's where myGenome Diagnostic comes into play.
Even if other genetic tests have shown a negative result, with myGenome Diagnostic, individuals may learn about genetic variants that explain signs and symptoms of their condition. Results can have implications for treatment decisions and outcomes, medical management options, and even for other family members. This level of screening is available for adults ages 18 and up, as well as for children (with parental or guardian consent).
Why myGenome from Veritas?
Veritas Genetics is committed to delivering the most actionable results that can help you and your physician make smarter, more informed decisions with real and lasting impact on your health. That's the heart of the matter, so to speak: Maximizing the quality and length of your life.
"We are now the first company to offer products that span the full spectrum of results – from entertaining to highly actionable to diagnostic," said Dr. Birgit Funke, PhD, FACMG, and VP of Clinical Affairs at Veritas.
So, when choosing a genetic test you need to ask yourself: "Am I doing this for fun, or am I doing this for my health?" If the answer is the latter, and you're seeking insights that will help you live a longer, better life, you want the test that truly has you covered. You want myGenome.
Want to be up to date with our adventures?
Sign up for our newsletter and join the conversation.
Veritas and Microsoft: A Growing Partner Network
We are honored to be the first and only Whole Genome Sequencing full-service Microsoft partner.